Kamy Noruzi, DMD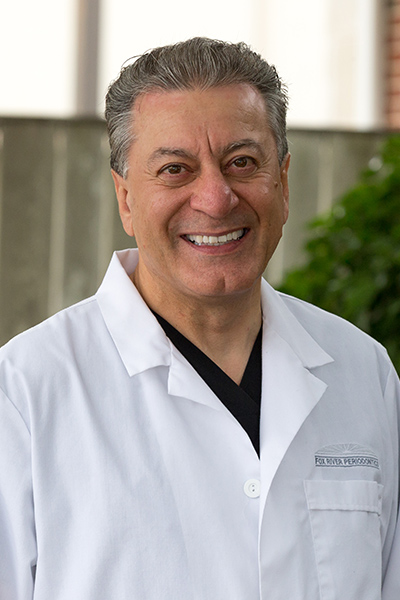 Dr. Kamy Noruzi is a Board Certified Periodontist who has been providing cosmetic periodontal and dental implant treatment to patients for almost 30 years. Dr. Noruzi earned his undergraduate degree at Farleigh Dickinson University in 1982 and dental degree at Farleigh Dickinson School of Dental Medicine in 1986. Following dental school Dr. Noruzi completed a general practice residency at Mt. Sinai Medical Center in New York City, NY. He then completed a post graduate program in Periodontics at the University of Illinois-Chicago School of Dentistry where he later served as an assistant professor of Periodontics.
In 1997, Dr. Noruzi was granted Diplomate status by the American Board of Periodontology. A Diplomate is a periodontist who has successfully completed a rigorous examination process and is certified by the American Board of Periodontology.
Dr. Noruzi is a member of the American Academy of Periodontology, Academy of Osseointegration, Illinois State Dental Society, Institute for Dental Implant Awareness, American Dental Association, Fox River Valley Dental Society (Past President) and Geneva Chamber of Commerce.
Dr. Noruzi resides in the area with his wife and their dog, Colonel Browning.
Meet Our Team
Our team at Fox River Periodontics, PC is very nurturing and kind. When you visit Dr. Kamy Noruzi, we are happy to serve you in any way we can and to answer your questions. We are a source of information about your treatments. We welcome you to contact our office today to learn more about us and to schedule your next appointment with Dr. Noruzi in Geneva, Illinois.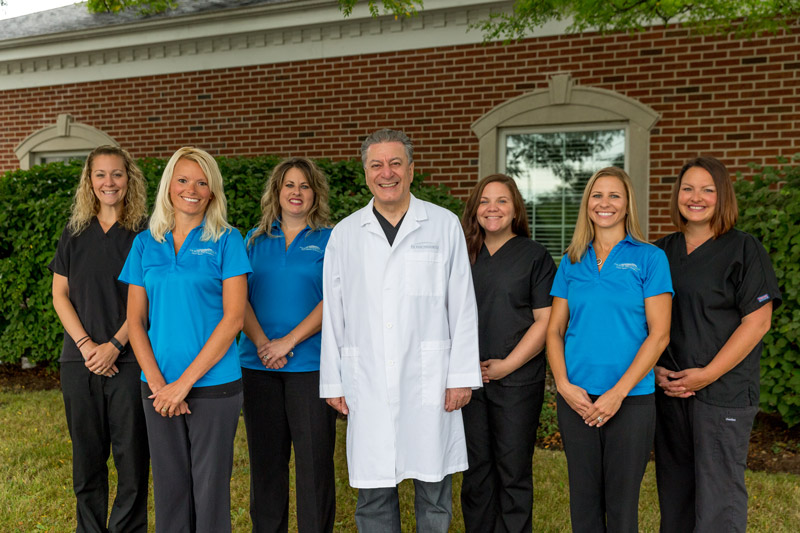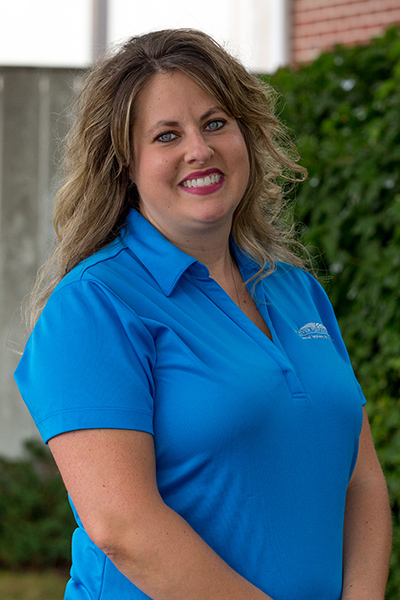 Jamie – Patient Relations Coordinator
Jamie has been with Fox River Periodontics, PC for 20 years. She was Dr. Noruzi's surgical assistant for 10 years. Jamie takes phone calls, insurance questions, and submits insurance. She also helps our patients make appointments. Jamie enjoys that our team is like family. Jamie is married and has a ten-year-old daughter and a six-year-old son.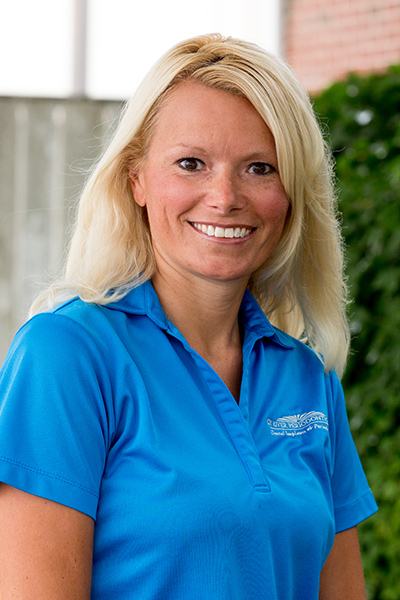 Kendra – Patient Care Coordinator
Kendra is a certified medical assistant and a certified coder. She has been a part of our team since April, 2015. Kendra has a medical background in occupational health and orthopaedics. She was an office manager for seven years in the medical field before joining Fox River Periodontics, PC. Kendra makes sure that each patient is treated with compassion, care, and respect. Kendra loves all of the care and compassion in our office. It is a fun and friendly place to work. She truly loves the family feel of the office. Kendra is married with a son and a daughter. In her spare time, Kendra enjoys cooking, reading, camping, and spending time with family and friends.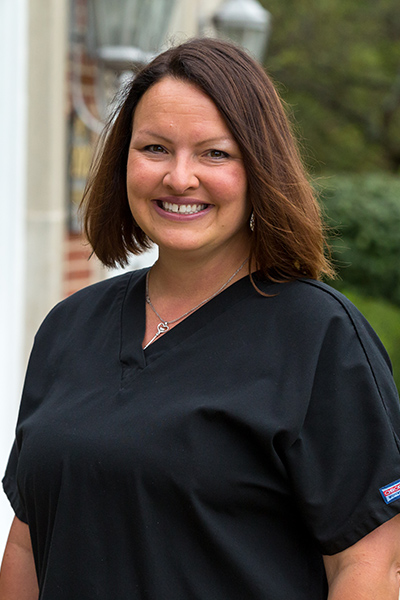 Heather – Hygienist
Heather earned her associate's of applied science degree from the College of DuPage. Heather has been a part of our team for almost 12 years. She educates our patients about periodontal health and implant maintenance and helps them feel comfortable when they visit Fox River Periodontics, PC. Heather enjoys that our team are all like family and that she gets to continue her education at our office.
Heather has a son named Anthony (age 11) and three step-children: Alyssa (age 13), Tyler (age 12), and Avrey (age 9). In her free time, Heather enjoys working out and cooking.
Jen – Certified Dental Assistant/Certified Phlebotomy Technician
Jen became certified through ECC in 2003 in coronal polishing and sealants. In 2004, she was certified by the Warner Group for four-handed dentistry, sterilization/disinfection, and digital X-rays. In 2001 she earned her certification for CBT operation from Sirona Group. In 2006, Jen went to WCC to become a certified Phlebotomy Technician and took an elective course in medical terminology. She regularly studies with the Levin Group to maintain the standard of care of our patients. Jen has been a member of our team since 2006. Jen is our clinical team leader. She cares for our patients and educates them on the benefits of dental implants and maintaining their periodontal health. Jen helps us stay HIPPA and OSHA compliant. Jen loves that our team is like family.
Jen's brother Nick is a patient care technician (PCT) at Central DuPage Hospital (CDH). Her sister-in-law is a nurse at CDH. Jen's mom works for a local endodontist. When not in the office, Jen enjoys photography, horseback riding, hiking, exercising, and anything outdoors. Jen loves spending time with her husband, daughter and their two dogs.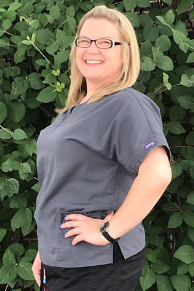 Ashley – Dental Assistant
Ashley has been a member of our team since 2017. She loves being a part of our team effort to help our patients get the best care that we can give them. She also loves the people she works with. When not in the office, Ashley and her boyfriend, Ryan, travel, go fishing and play with their dog, Akiko, and cat, Gizmo.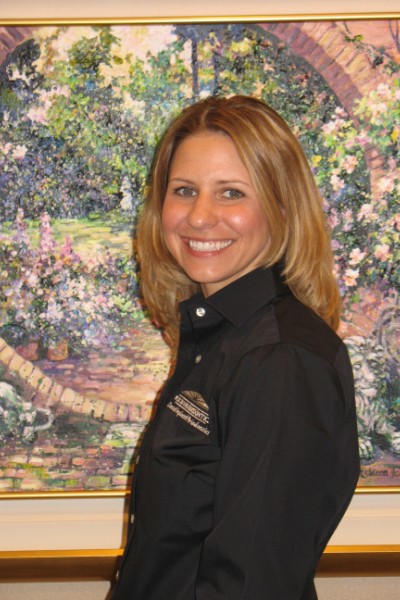 Laura – Public Relations/Marketing Coordinator
Laura graduated from Western Illinois University with a bachelor's degree in 1998. She double majored in Public Communications & Human Relations and History. Laura was an event planner/fundraiser for political and non-profit organizations for 10 years prior to joining the Fox River Periodontics, PC team. Laura has been a member of our team for eleven years. Laura builds the relationships between general dentists and our office staff, creating open communication between our offices. She also coordinates and promotes all educational programs and social activities for the office. Laura loves that the main focus at Fox River Periodontics, PC is the comfort of the patient. We treat all of our patients like family. Laura is married with two sons and a dog (half shih tzu and half pug). When not in the office, Laura enjoys reading and traveling with her family.